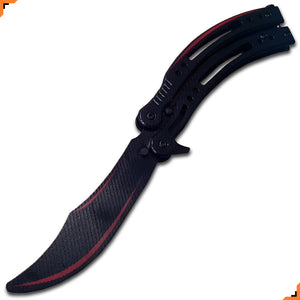 Redline Butterfly
Regular price $29.70 SALE
Limited quantity Collectible Item, 2020 model.

This is a long awaited Redline Butterfly that was fundraised by our customers and designed by EmKay himself! In case you are not aware, EmKay is the original Author of Redline series. 

DETAILS:

440c stainless steel

Hardness: 59 HRC


Blade - 3.56 "

Overall length - 9.5 "

Latch with spring

New 3D coating

PEOPLE WHO BROUGHT THIS KNIFE TO LIFE:
USA:
- Brandon J, Angela L., Mike C., Robert H., Anthony F., Jonathan M., Roberto T., Samantha K., David S., Francisco G., Emma L., Robert K., Mark L., Olivia K., Alex R., Marcos F., Allison O.,  Gene C., Michael H., John P., Leo S., Cassandra, T.

BRAZIL:
- Matheus M., Carlos D., Marcos E.,

FRANCE:
- Émilien P., Ray L., Marc H.,
AUSTRIA:
 - Jonas P.,
PHILIPPINES:
 - Pio, M.M.,
 Thank you to all contributors who donated and helped us with the campaign!.